Need to Know
---
United DFC Need to Know - November 29th - December 6th, 2023
Welcome to United DFC's weekly Need to Know newsletter. Our aim is to keep you informed about everything that is going on inside the club. Watch for your update every Wednesday.
Did you know?
Did you know that Margaret's House serves 3,400+ takeaway meals each month and food security needs only increase during the holiday season.
To do something special for those less fortunate, please have a look at their Christmas Wish List. Donations are welcome Monday-Thursday 9:30-11:00 am/1:00-3:00 pm or Friday-Saturday 9:30-11:00 am.
Holiday Food Drive
From now until December 15th, our office is accepting donations of non-perishable food items for Margaret House. Bring in some items and you'll be entered to win a pizza party for your team.
What to Collect:
- Non-perishable food items (list available on Margaret House's website)
- Clothing items
Collection Deadline:
- All items must be dropped off at the office by December 15th.
- Early drop-offs and individual donations are welcome
Team Incentive:
- Participating teams are eligible to win a pizza party!
- For every 10 items donated, your team earns an extra entry into the draw.
- The lucky team will be announced on or before December 20, 2023.
UDFC Night - Appreciating Our Volunteers
What a great night! Lots of singing, dancing, and face-painting! Thank you to all of our Volunteers! We appreciate you and value everything you do for the club!
W-Inspire
N.S. soccer organization wins national award for its support of women and gender-diverse coaches
The Coaching Association of Canada has recognized United DFC, a local soccer organization, with a national Impact Award for its W-Inspire conference, which celebrates women and gender-diverse coaches. Host Jeff Douglas spoke with member Kim Wallace and Canadian Olympian Erin McLeod, who will be speaking at the conference on Saturday. Click here to listen
United DFC and TELUS She CAN Coach
United DFC is thrilled to be included as a participant in the inaugural phase of the TELUS She CAN Coach program that launched this week. TELUS She CAN Coach is a national coach recruitment, development, and training project designed for women to address the challenges they face regarding soccer participation. Already regarded as a leader in the province for female coaching development, United DFC is excited to take this to the next level with the support of Telus, Canada Soccer and Soccer NS.
The program will take place over the next 12 months with opportunities for BRAND NEW and novice female and gender diverse coaches within our club. Participants self-determine if they are "novice" based on their experience level and confidence. Below is a link to an expression of interest form for anyone who would like to be contacted directly when the recruitment phase begins. United DFC has a longstanding commitment to developing more female and gender diverse coaches. We are confident that we will excel in the TELUS She CAN Coach program.
UDFC Expression of Interest Form: https://forms.gle/VKTxFKriA4m3dNr68
Full Press Release from Canada Soccer: https://canadasoccer.com/news/canada-soccer-launches-national-telus-she-can-coach-program-with-20-participating-clubs/?fbclid=IwAR1D5RogaQUYzsNxPxUCd8_G6MI6D8URZ4E8HqWjrIpAb2VwzzozWR2HPRU
MacKay Bridge
Halifax Harbour Bridges has announced that the MacKay Bridge will be closed this weekend. Allow yourself extra time to get to any games/practices.
Goalkeeper's Holiday Gift
The glove rep for Elite just updated his inventory and got some great new gloves in. Would make a great Christmas gift for the keeper in your life!!!
GK Training
All sessions will be held at ECV
Mondays
U12/U13 Boys and Girls
5-5:45pm (far back corner)
U10/U11 Boys and Girls
5:45-6:30pm (far back corner)
Wednesdays
AAA GK training (players have been advised of times individually)
Fridays (starting Nov 24th)
U13 and up (A or AA) Boys and Girls
6:15-7:15
Gloves
Email Coach Keith for a discount code.
IMPORTANT DATES (SC, U13-U18)
Christmas Break (no games scheduled) - December 23, 24, 30 & 31.

Completion of regular season - Feb 10/11

Play-offs Begin - Feb 17/18

Final Weekend March ?
IMPORTANT DATES for AAA
Dec 15, 2023 - Team training schedule submitted to League (Jan-March)
Jan 1, 2024 - Rosters and coaching staff due in RAMP - minimum 14 players
Jan 13/14, 2024 - First weekend of pre-season games
March 23/24, 2024 - Last weekend of pre-season games
April 1, 2024 - minimum 17 players required on RAMP
April 13/14 - First weekend of regular season games (tentative)
November 50/50
United DFC is excited to announce a Monthly 50/50 Club-Wide Fundraiser. Raffles will occur monthly, with draws taking place on the 1st of the Month from April 1, 2023 to March 1, 2024.
November 50/50 Link
Office Hours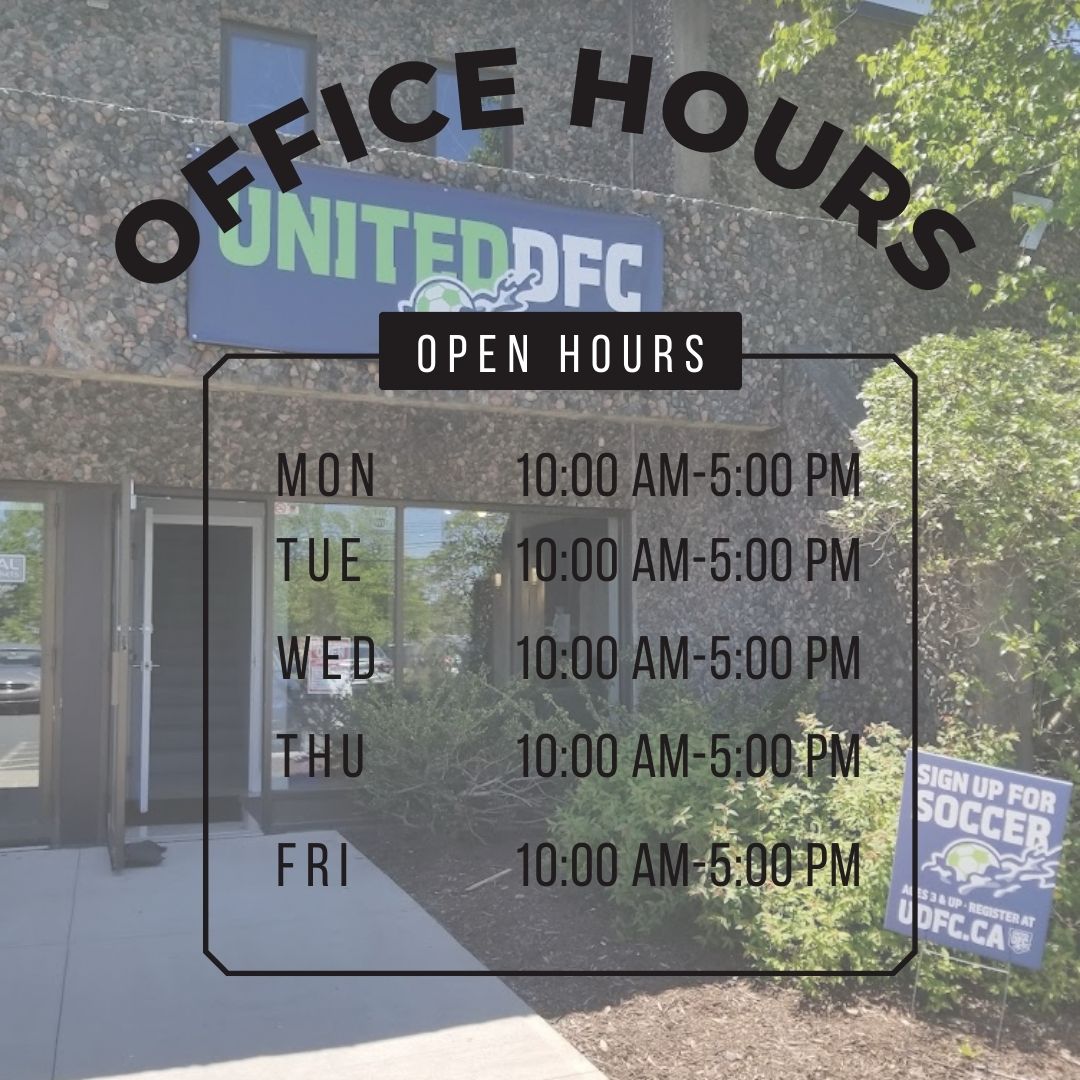 Social Media Channels
Please follow our social media channels and like/tag/share/comment on any posts that resonate with you. This is a small thing you can do that will help the club a great deal.
Instagram: @UnitedDFC
Facebook: @UnitedDFC
Twitter: @UnitedDFC
TikTok: @UnitedDFC
YouTube: @United DFC